An 8 km hike in South Andros from Korthi Bay through Kochylou, the Epano Kastro (Upper Castle) and the valley of Dipotamata. A tour of the Upper Castle and at the end of the hike a visit to the Syneti Folk Museum with refreshments of local produce in Syneti.
CLICK HERE to see the hike on a full screen map
Meeting time: 9.45 am  Meeting point: Korthi Bay, seafront roundabout at the entrance to town
The hike starts from the scenic town of Ormos Korthi, heading for the Korthi river, and then ascending to Rogo and the wonderful settlement of Kochylou. Depending on the weather, we are planning take a 2km detour to the Upper Castle and a guided tour of the archaeological site. After this, returning to the central route we will walk through the impressive valley of Dipotamata with its stunning watermills and arched bridge.
At the end of the hike, we travel with a coach to the village of Syneti for refreshments of local produce followed by a visit to the Folklore Museum of Syneti 
Return by coach from Syneti to Chora.
Ticket Prices:
Hiking – Free
Guided tours & museum visit- Free
Snack of local products – € 7,5
Transport – € 3
Hike :Ormos Korthi – Kochylou, – Epano Kastro – Dipotamata, Distance : 6+2km, Difficulty: medium-difficult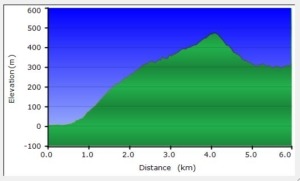 Transport :
1) From Dipotamata to Syneti
2) From Syneti to Chora
Suggested areas for overnight stay:
Night before hike : Korthi
Night of hike : Chora